Welcome to
a Premium Pure Canadian Maple Syrup
Not all Maple Syrups are the same...
Do All Maple Syrups Taste the Same?
Do All Beers Taste the Same?
Do All Wines Taste the Same?
Do All Single Malt Scotches Taste the Same?
We think not.
They are all made in different respective environments, which produce various styles and qualities of ingredients for production purposes.
Rocky Run 's sugar camp overlooks the magnificent Rocky Saugeen River in the heart of a spectacular source for its premium sap.
Unique Character
Rocky Run, Premium Pure Canadian Maple Syrup, has its own unique character manifested through its taste and texture.
Starting with the highest quality sap from only Sugar Maple trees and with over eighty years of production experience and knowledge in syrup production, Rocky Run a Premium Pure Canadian Maple Syrup has earned its stripes.

We are not a mass producer (approx. 1800 litres annually)
Our small "boutique " or " craft" techniques lend themselves to focus on quality and not quantity.
Four Keys
Four Key Factors in Rocky Run production of a Premium Pure Canadian Maple Syrup are has follows;
1) The Region or "Terroir", where Rocky Run Premium Pure Canadian Maple Syrup's sugar bush is situated.
A south facing bush on a hillside provides perfect drainage through its alkaline soils that are over the top of a limestone base.
Perfect!
2) Our History of Maple Syrup production.
Over eighty years of carrying on the Lind tradition has rewarded the end product though passed down knowledge and experience.
3) Our Process
Rocky Run keeps up with technology and innovation. This is a key factor in producing a quality product. However, we do not allow the modern practice to take away from the craftsmanship of a boutique style syrup.
4) "The Passion"
The Lind family is very attached and focused on maple syrup production annually.
Just like a craft micro-brewer or an estate vintner...we focus totally on producing a superior syrup.
Four Key Factors In Detail
Please read on as the Four Key Factors are described in greater detail below;

1) , a Premium Pure Canadian Maple Syrup's "Terroir".
In order to produce a premium product, one needs to start with the best possible ingredients available.
A fine Burgundy, Bordeaux or California Cab. find themselves producing their wines where the soil and drainage conditions are the best that they can be.
South facing environment lends itself to higher sugar content.
The same applies to our bush. Better environment...better grapes....better wine...
Better sap, better syrup!
Rocky Run, a Premium Pure Canadian Maple Syrup, retrieves its sap form a virgin old growth Sugar Maple Forest.
This bush is properly managed all year long under the Forest Stewardship Council Program, keeping it healthy and productive.
2) Our History in Maple Syrup Production
John Grieves Lind, a retired gold prospector and cement manufacturer boiled syrup in the mid 1930's in the traditional fashion,
with a tripod, steel caldron, and a hunk of lard.
His sons continued with newer methods in the '50's and '60's
Their sons modernized procedures in the '70's
The youngest grandson installed pipelines and introduced an evaporator in the 80's.
He and his eldest brother continued to modernize and upgrade equipment continuously bringing them to current times.
The next two generations participate and get involved every "Sugaring Off" season.
This great Canadian tradition brings families and friends to the "Bush" throughout all provinces stretching from Ontario to Nova Scotia.
3) The Process
Continual access to the best tasting sap running out from our mature Sugar Maples does not necessarily guarantee a superior finished product. We have to be conscious of all the other variables that can upset the end result.
Quality Control starts in the "Cool" storage of the crystal clear liquid.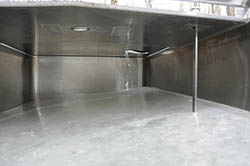 Our modern Reverse Osmosis system ensures the best filtering system available today.
However, Rocky Run, a Premium Pure Canadian Maple Syrup, is very conscious about the percentage sugar we take our sap to, before it enters the cooking stage.
We are different from the rest by only taking our sap to a 7%-8% sugar content reading...no higher!
This "cut off" opens the door for a longer "visit" to the evaporation process.
By allowing nature to "reduce" the sap to maple syrup in the evaporator and not the R.O., we provide enough cooking time to permit natural caramelization and "body building" of the syrup.
Our WOOD FIRED evaporator also adds "character" to the "sweetwater" ..soon to be syrup.
4) "The Passion"
focuses on the finer details.
The dedication and focus from our "production team" demonstrates a culmination of many many factors.
Rocky Run has over 80 years of love and dedication in converting one of nature's pristine fluids into a wonderful delicious syrup.
We remember where we came from and don't wish to compromise anything to deter our passion for quality.
We never blend our sap or our syrup.
What we produce is as pure as white snow.
Quality always wins over quantity.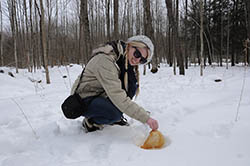 To Summarize
We love what we do! We hope you will enjoy what we prouduce!
Where to find us
Summerhill Market, Toronto (all three stores)
Curries Farm Market, Collingwood
Dags and Willow, Collingwood
Thrive Foods, Honey Harbour
North Wellington Co-Op, Durham, Ontario
Honey Harbour Town Centre, Honey Harbour
McLeans Home Hardware, Durham On
Market Garden, Chelsea Hotel, Toronto
Field of Greens Muskoka Market
Artemesia Cheese and Fine Foods
Bruno's Fine Foods
Peace Bridge Duty Free
Lake Livin', Port Sandfield
Welbeck Sawmill
Or by E-Mail to Geoffrey Lind at geoffwlind@gmail.com